SINIVALKOINEN MAISEMA
3.11. – 26.11.2017
Galleria Ars Nova
Savonlinna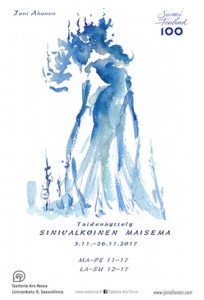 ---
LADY CEREZA
2.5. – 14.5.2017
AKVART Galleria
Helsinki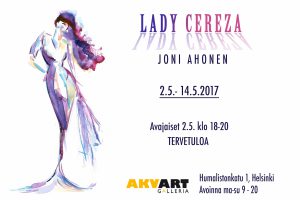 ---
Reporanka – Dog-tired
3.10. – 25.10.2015
Taidekeskus Haihara
Tampere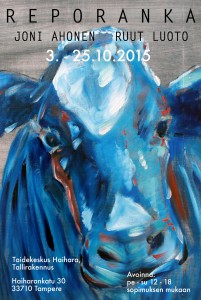 Dog-tired is the name of the degree exhibition of Tampere University of Applied Science by Joni Ahonen and Ruut Luoto.
Joni Ahonen's work Kotitila (Homestead) is an installation which is compiled from oil paintings of cows and a big painting of his parents. Homestead is a tribute for his parent's lifework as farmers.
---
Black and White
2.6.-29.6.2014
Kauppakeskus Stella
Mikkeli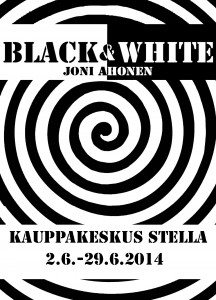 This video-installation consists of four doors with displays attached to the backside. The doors are painted with indicative patterns that hint at the events of the video which can be seen throught the peephole. For example, a dashline guides the viewer to enter the peephole and through it the traffic on a highway.
---
Violetta
31.5.-19.6.2014
Galleria Ars Nova
Savonlinna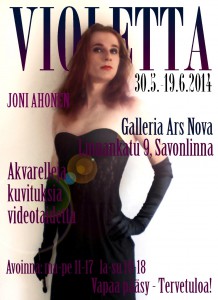 This exhibition includes watercolor paintings, drawings and also some video art works.  All of them share the same main theme which is related to fashion and women's beauty. Even I played a part in this exhibition being dressed like a beautiful lady at the opening ceremony. It was the first public appearance of such sort I had ever made.
---
Viininpunainen
2.5.-31.5.2013
Taidekeskus Väinölä
Varkaus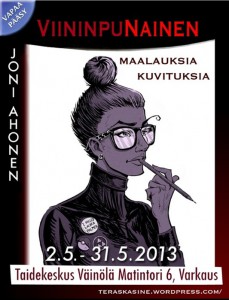 Viininpunainen was my first main private art exhibition. Lots of works, I presented there, were painted in different techniques. There were some comics and illustrations, watercolor and oil color paintings, small installations with some optical illusion tricks and drawings I made during studies at Repin-insitute. I didn't know yet what type of artist I would like to be.